Julie Bath, Owner
Julie has been around horses and horse people all her life. She is the daughter of Gillian and David Bath the previous managers of Old Stone. Gillian and David both grew up in England and brought their daughters and love of horses to the U.S. in 1972. By 1975 Gillian Bath was introducing Dressage and Jumping to N Western Cincinnati. Julie helped her parents with the farm from the age of 13. In the early 80's Julie spent time at Crabbet Park at Surrey, England studying with the British Horse Society. After finishing a Masters in Molecular Genetics and enjoying working in the "real world" for a number of years, Julie return to Old Stone in 2000. Her parents were ready to retire from the farm and were excited to have Julie step in and keep the beloved property and horses in the family. Since returning she has won many local awards for her riding. She has competed successfully through 3rd level Dressage and Training level Eventing. Along with running the "Old Stone Business". Julie coaches for the Miami Valley Pony Club and helps to train the farms school horses. Julie finds satisfaction in helping both horses and students relax and be confident in each others company and abilities. She also has a strong love for nature and the outdoors and enjoys sharing this with visitors to Old Stone.
Zuzana Parrette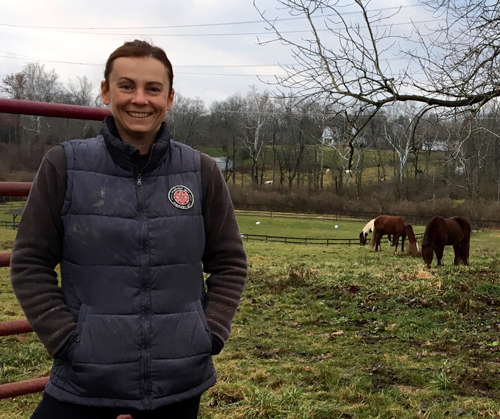 Zuzana is the Barn Manager at OSRC. Zuzana grew up in the Czech Republic. She has always loved horses and is a keen observer, amazing organizer, hard worker and generous, positive personality. Zuzana is taking 2 lessons every week and attending clinics as she is able. She helps to teach the beginner riders and generally keeps the farm running smoothly.
Terah Primack
Terah has also been around horses all her life. She is a very competent and tactful rider who completed her C2 with the Miami Valley Pony Club. Terah is very helpful and conscientious with the horses, students and boarders at Old Stone.